Happy bir.. 
HOLD ON!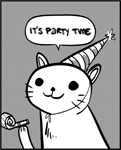 CONTINUE!

 
(Said Nitouryu)
Elitist asshole, signing in. That's me, GGpX, obviously.
So today is November 11th. It's Illuminati-Manga's birthday! Houray, we made it through another year. Not bad, huh?
Anyway. We had a bunch of releases planned. Some didn't make it, because, well, shit happens. We'll probably finish up what we started on soon-ish. Relative term. I'll also give an update on our projects.
Anyway, today's releases:
Full Metal Panic Sigma 33 (!Sigma33 !FMPS33) – Yay more FMP.
Garouden (!Garou !Garouden) – The full release of Garouden. A good read for you martial arts fans.
Holyland 96 (!HL96 !Holy96) – Newest chapter of Holyland.
Koukou Tekken-den Tough Volume 07 (!Tough07 !Koukou07) – Final volume of the individual martial arts arcs. After this volume it gets into serious story mode.
Rookies 184 (!Rook184 !Rookies184) – Another new chapter of Rookies. I really don't have much to say on most of these…
Anyway, yeah. Happy birthday.
Bye.
PS. I know the project page is out of date. I'm lazy. Blame the lazy webmaster for my laziness. And stuff.